If it's time for new commercial roofing in Fort Wayne, you might consider upgrading your property's roofing materials. A more durable roofing choice can translate into fewer repair costs down the road! Additionally, an upgraded roof can offer added interior insulation and improved curb appeal.
Check out what many roofers consider the 5 best materials for commercial roofing and why they're recommended. You can then discuss your choices with a Fort Wayne roofing contractor as needed!
1. Why Choose Metal for Commercial Roofing in Fort Wayne
Metal roofing is an excellent choice for both commercial and residential roofing! One reason to choose metal is its overall durability, often lasting 50 years or more. Two, a contractor might add a layer of lightweight metal over existing shingles, if building codes allow. In turn, you can save on the cost and mess of a full roof tear-off.
Additionally, powder coating means that metal comes in a wide variety of color tones. You can then choose something that fits your business brand. Also, you might opt for a lighter shade, to deflect sunlight during summertime. Lastly, metal is very eco-friendly and easy to recycle!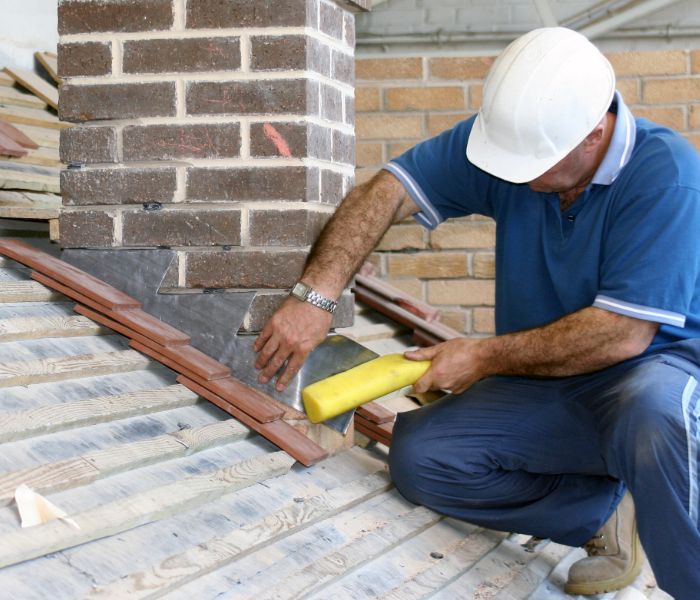 2. Classic Shingles Are Excellent for Commercial Roofing
Classic shingles are still an excellent choice for commercial roofing in Fort Wayne. However, it might be time to invest in a higher-quality, more durable brand, especially if you face frequent roof repairs. Soot and smoke produced by commercial buildings often wreak havoc on cheaper shingles. In turn, choosing a more durable choice can translate to fewer repair bills over time!
When choosing asphalt shingles, note their warranty. Thin, three-tab or strip shingles often last no more than 20 years. On the other hand, laminated shingles might last up to 50 years! Additionally, shingle ratings for fire and wind resistance also indicate their overall quality.
3. Heavy Foot Traffic? Consider Built-up Roofing Membrane
A contractor creates built-up roofing membranes by alternating layers of roofing tar and aggregate or gravel. This material is inexpensive and easy to install. Above all, it withstands foo traffic more readily than many other commercial roof options!
In turn, consider built-up roofing membrane for structures getting lots of roof foot traffic. For example, if your maintenance crew needs to access rooftop HVAC components or change out rooftop signage often. Gravel underfoot supplies added traction, and the membrane withstands that wear more readily than shingles.
4. What Is Spray-on Commercial Roofing?
Spray-on roofing is an excellent choice for many commercial buildings! Polyurethane foam, applied with specialty sprayers, dries and then hardens, providing a lightweight yet durable surface. Spray-on roofing supplies excellent waterproofing and interior insulation and might last up to 50 years when applied correctly.
One downside to spray-on roofing is that adverse weather affects its application. In turn, you'll need to schedule installation during mild days without snow, rain, or ice. Also, expect annual inspections, to ensure your new roof stays in good condition.
5. Opt for Eco-Friendly Green Commercial Roofing in Fort Wayne!
If you're interested in reducing your carbon footprint, consider an eco-friendly green roof. Tough, waterproof membranes line the roof and hold plants, gravel, and other natural elements. That greenery helps clean the air and provides added cooling for interior spaces below.
Additionally, a green roof supplies a place for employees to relax and enjoy their breaktimes. Also, some municipalities offer financial incentives for companies installing green roofs. Greenery on your structure's roof also offers stunning curb appeal.
One downside to green roofs is that not every roofer offers their installation. Two, they do need consistent monitoring and care. However, they're a great choice especially in heavily polluted areas where standard filters might not supply sufficient air cleaning. You also don't need to worry about those roofing materials ending up in landfills eventually!
How to Choose the Right Commercial Roofing Material
Now that you know a bit more about Fort Wayne commercial roofing options, how do you choose one for your property? First consider your budget but remember that higher-quality materials last longer! Second, ensure you opt for something that coordinates with a structure's appearance. For instance, a spray-on roof might look overly industrial on an office building.
Next, consider everyday wear and tear and what a roof must withstand. As an example, built-up roofing membranes withstand foot traffic, as said. On the other hand, walking on asphalt shingles strips their granules and can pull them off the roof decking below.
Lastly, remember that roofing is a long-term investment. In turn, you want to choose something that offers quality over the years. This is especially vital to remember if you might put your structure on the market anytime soon. Investing in a quality roof now can mean higher offers on your property if you should decide to sell.
The Fort Wayne Roofers is happy to provide this information about commercial roofing in Fort Wayne. If you found it helpful, please share! You can also turn to our experienced Fort Wayne roof repair contractors for expert advice and needed fixes. We use only the highest-grade materials on the market and guarantee our work to last. For more information, contact us today.